News
February 2023 Update: This is Jason Masters, Mark's webmaster. Sorry so long in updating the website. Mark has been very busy in the last year or so, filming 3 new feature films and 3 television shows. The launch of his independent horror movie production company "Scared to Death Films" commenced with filming of "A Vampire's Kiss" and is currently being edited using Premire Pro software. Mark also was excited to recently land a major re-occuring role playing a mean drug dealer on a major network television show in 2024! Other films Mark worked on are due for release soon, including "Babylon" with Brad Pitt and Margot Robbie where Mark appeared in two separate scenes; "Killers of the Flower Moon" with Leonardo DiCaprio and Robert DeNiro; "115 Grains" where Mark played a biker; and "The Mutilator 2". Upcoming projects for 2023 include the filming of a werewolf movie in April 2023, and 3 pilot episodes for a cable tv series set in the Florida Everglades. Gonna be another busy year! More updates soon!

January 2022 Update: Mark recently made an appearance on the set of the thriller feature film "115 Grains" this week, where he played a biker in a dive bar scene! Here's a few pics:
Mark on the set of the feature film "115 Grains". Proper Covid protocols have
to be followed on all film and television production sets when not taping
Mark and fellow "biker" actor Phillip LaGrassa on the
set of the feature film "115 Grains" ready for action!
Merry Christmas, not happy holidays! Hope everyone had a wonderful Christmas and New Years, Mark has a busy schedule coming up and we have some exciting things to tell you all about! The true crime show that Mark filmed back in September called "Relationship Killer with Faith Jenkins" for the Oxygen Network debuts this month. The episode Mark appears in as hit man David Segoviano is episode #3 and is titled "Monster in Law" and airs on Sunday January 30, 2022 at 7PM!

Mark's independent horror movie production company "Scared to Death Films" will be gearing up for the production of a vampire movie set to begin filming in Naples in late 2022. Entitled "A Vampire's Kiss", along with Mark, the film also stars fellow "Bed of Nails" actor Carson Corollo. Hannah Denney will be handling makeup and hair.
Mark has also signed on to work on a feature length film and web series with award winning producer Steve Oakley of MTV's "Real World".
We are super excited to also announce that Mark has been cast in Bud Cooper's sequel to 1984's "The Mutilator" set to film in North Carolina in April of 2022. "The Mutilator 2" also features Terry Kiser ("Three's Company", "Walker, Texas Ranger", "Friday the 13th Part 7", "Weekend at Bernies"; and Damien Maffei ("The House that Cried Blood", "The Strangers", "Wrong Turn"). It's going to be a beach bloodbath of epic proportions!

Terry Kiser Damien Maffei
Original Mutilator Poster from 1984
November 2021 Update: Mark just completed several scenes last week for the brand new HBO Max TV series "Rap Shit" where he played a celebrity party guest. The show will debut this winter and also stars Grammy-award winning artist Kamillion and former Grey's Anatomy star Daniel Augustin. Here's a few pics:

Mark and fellow actor O'Neal Hursefield Mark and actor David Saracusa
 Mark in the holding tent at the start of a 14 hour long day on the set of HBO Max's new series "Rap Shit".
October 2021 Update: That's a wrap! Filming of the independent feature length horror movie "Bed of Nails" has completed after 3 grueling weeks in the hot and humid Green Swamp of central Florida. The film is guaranteed to shock many and titilate others, and takes the rape-revenge motif to an entirely new level, way beyond "Deliverance", "Last House on the Left" and "I Spit on Your Grave". Mark plays the lead villain "Bobby Lee" in the movie, and his performance is likely to make the character of "Bobby Lee" one of the most hated characters in horror movie history. The film also stars Deanna Marine, Erik Sizemore, Wes Moniaci, Erin Pearl and Carson Carollo. Mark's character "Bobby Lee" and his 3 redneck friends rape and murder 3 goth kids in the Florida swamps who were on their way to Key West on vacation. One of the girls was a practicing witch and into the occult and is able to become resurrected from the dead and gets revenge on each one of her 4 killers one at a time. The revenge scenes are milked, old-school horror movie style with plenty of suspense and surprises. She saves "Bobby Lee" for last, climaxing in a knock-down, drag-it-out epic fight scene! With much editing and post production work ahead, the film will likely debut in mid-late 2022. Mark also served as co-producer, assistant director and script supervisor on the film.
Here's some photos from the set:
Mark going over last minute script changes at the tire shop where the rednecks first encounter the 3 goth kids while they're getting their tire fixed
Mark Francis as lead villain "Bobby Lee"
"Bobby Lee" searching for "Jason" in the swamp
"Bobby Lee" and "Skeeter" played by Wes Moniaci, assault and murder Carson Carollo's character "Jason" at the old abandoned park deep in the swamp
As Co-producer and script supervisor on the feature length film, Mark also served as first Assistant Director, and directed 75% of the film's scenes; working with the other actor's lines, positions, and scene-blocking. Here, Mark and fellow actors Wes Moniaci and Kevin Enright check the monitor for the scene at Jim's Tire Shop.
Actress Deanna Marine as "Sky", back from the dead
Mark working the fog machine at 4 A.M. as Sky comes across the old wooden bridge. One of many duties Mark performed above and beyond his role as Bobby Lee, while serving as Co-producer of Bed of Nails
Filming ressurected "Sky" stalking "Bobby Lee" as she
walks across the old wooden swamp bridge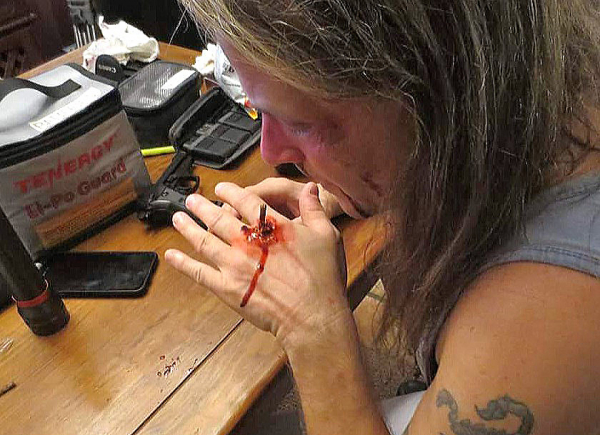 Makeup artist Hannah Denney's expert "twig through the hand"
It's the end for "Bobby Lee" as the resurrected and vengeful "Sky" prepares to cut off his head with a hand sickle
Stay tuned for more updates on other films and television projects Mark is working on!
September 2021 Update: Been a busy summer and fall's looking the same!
Mark has had an incredibly busy summer and the fall is looking pretty much the same as more of the film and television industry open back up with many projects on "full steam ahead" and making up for lost time!
Mark finished filming scenes for legendary Hollywood director Martin Scorsese's "Killers of the Flower Moon" recently, which also stars Robert DeNiro, Leonardo DiCaprio, Jesse Plemmons, Tantoo Cardinal, John Lithgow, and Brendan Frasier. Filming took place on the Osage Indian reservation in Oklahoma and at Paramount Studios in Hollywood. Here's a few pics of Mark leaving Paramount after a long day...
Next Mark worked on another Paramount Pictures feature film with Brad Pitt, Margot Robbie and Tobey MaGuire called "Babylon" where he appeared in two different scenes: a V.I.P. party and a black-tie movie premier. Filming was done at the beautiful historic Orpheum Theater in downtown Los Angeles.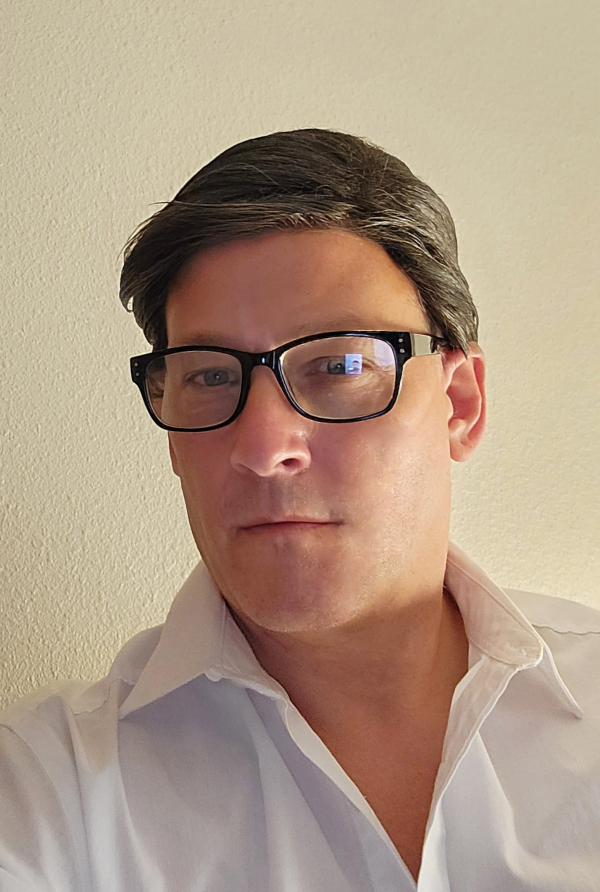 Mark in "Babylon"

After "Babylon" and while in Hollywood, Mark joined the ranks of fellow celebrity Johnny Depp and landed a West Coast print ad campaign for Sauvage Cologne. The ad campaign will run for 6 months starting in March of 2022 in various men's magazines and the like. The photo shows an elegant gentleman driving a car to some unknown destination with a tuxedo jacket hanging in the back and the caption reads "For wherever your road leads..." Pretty damn cool. We all know Mark modeled "Guess" brand jeans back in the late 1980's in poster ads for department stores at shopping malls; but at this point in his career, in 2021... this one was a real tush-push! Here's the finished ad copy:
Next Mark was off to Austin, Texas to film a brand new true crime Television show for the Oxygen Network called "Relationship Killer with Faith Jenkins". Based on a true murder in 1992, Mark played the role of hit man David Segoviano in the crime re-enactments and throughly enjoyed the experience with the cast and crew. Mark enjoys playing bad guy roles and has specifically been targeting these types of characters throughout his career and is becoming known as the "go-to" guy for a biker, rapist, serial killer, drug dealer, hit man, prisoner or criminal. He says" Any time I get to shoot somebody, choke somebody or beat the hell out of them on film.. I just love it!" The episode Mark appears in airs on the Oxygen Network on Sunday January 30, 2022!
Here's a photo of fellow actor Dave Bodenbender (HBO's "Love & Death", AMC's "Fear the Walking Dead"), Director Dio Traverso of Texas Crew, and Mark on set.


While in Austin in mid September, Mark visited with his old brother-in-arms Andy Stoltz, former Matrixx lead guitarist and songwriter. It was an epic hang years in the making with much reminiscing and catching up. Stoltz is now a music teacher at the University of Texas and is Director of the recording arts & sciences program at the Butler School of Music. Francis and Stoltz laid down solid plans to produce a Matrixx CD sometime in 2022 that will feature the original 1985 4 song EP plus several live tracks from back in the day. Plans have begun to acquire the original master tapes from the mid 1980's, which will then be digitized, re-mixed and re-mastered. Matrixx has been currently receiving airplay of old material on a heavy metal radio station in Greece!
Here's a photo of Mark and Andy at the University of Texas Auditorium. Notice the incredible pipe organ in the background, with 40 foot tall pipes that go all the way to the ceiling! Breath-taking!
Next Mark begins work in early October of 2021 on the Mike Malott feature film "Bed of Nails" where he portrays lead raping and murdering redneck "Bobby Lee". Produced by Bad Clown Films, this independent horror feature is being filmed in central Florida and will debut in 2022. Mark is also writing a song for the film "Back from the Dead" which will be sung by goth/metal singer Miranda Scythe. Mark is also serving as co-producer on the film and music/soundtrack supervisor.

That's all for now, check back soon for more updates and news!
March 2021 Update: Lots of cool things going on!
Hello everyone, we hope you are all doing well, staying safe and looking forward to a better year in 2021! Mark has been very busy with many different projects and we wanted to update all of you on what has been going on:
Back on December 13, 2020 "Attraction Man" finally premiered at the Savor Theater in Fort Lauderdale, Florida to two sold out showings. The red carpet event was held under Covid guidelines and included a question and answer session and an after party with the cast and crew. A safe, fun time was had by all. The film has currently been on the film festival circuit for the past 2 months and has been winning awards and getting very good reviews and feedback. Here's a photo of Mark and Executive Producer L.J. Ugarte of Fire Creek Entertainment on the red carpet at the premier:
Mark has begun working this past winter on producing an edited and remixed CD of Matrixx material for release later this year. Matrixx was one of the early, legendary Cleveland heavy metal bands in the early 1980's that rose to International fame and acclaim along with fellow Cleveland bands Breaker and Shok Paris. Matrixx was the first Cleveland metal band to tour the United States. Mark has stated the CD will include old studio tracks as well as live recordings and he will again work with engineer Matthew Gross at A to Z Audio.
Two films that Mark appeared in back in 2019 were finally released to rave reviews. Shaka King's "Judas and the Black Messiah", where Mark played an F.B.I. agent in a scene with Hollywood legend Martin Sheen; and the Russo Brother's epic "Cherry", where Mark appeared in two separate scenes with star Tom Holland. Both are available in theaters and for streaming on HBO Max and Apple TV.
Filming of the Martin Scorcese directed movie "Killers of the Flower Moon" will finally begin in July 2021 on the Osage Indian reservation at Pawhuska, Oklahoma. The film also stars Robert DeNiro, Leonardo DiCaprio and Jesse Plemmons. Gonna be a busy summer!
Mark pictured below on the February 2021 set of "My Deadly Neighbor" playing a crazy neighbor who harrasses his new neighbors and has a deadly secret. We'll keep you posted...
Mark in February 2021 playing himself in a TV commercial for a National investment company:
Blast from the past.... Mark actually started his career in the entertainment business as a child model for Olan Mills Studios in Cleveland, Ohio at the age of 18 months. His photos were hung on the walls of the studio as examples families could order with certain sizes, types of poses the child could do, with different background scenes. Mark swears to this day that he still remembers the photographer telling him to hold his arms up and "hold that pose".

Stay tuned... more cool stuff coming down the pike....... stay safe & well!
May 2020 Teaser: "Attraction Man" movie coming soon! The new promotional poster looks pretty good!
May 2020 Update: Another lost legend... Once again we are sad to report Mark lost another friend and colleague, former Bad Company singer Brian Howe, who passed away from heart failure a few weeks ago. Brian lived in neighboring Fort Myers Beach, Florida and Mark and Brian had talked about working together about a year and a half ago. Brian had several major radio hits during his 15 year tenure with Bad Company and still had an incredible voice and continued to tour with his solo band. He was one of rock's greatest male vocalists, a great performer, great father and friend and he will be missed!
March 1, 2020 Update: New Book Release!
Mark's new book "Rare American Indian Weapons Volume 2" has been released and will make it's debut at the Collinsville Indian Artifact Show in St. Louis this month. Copies will be available here on the site at a later date!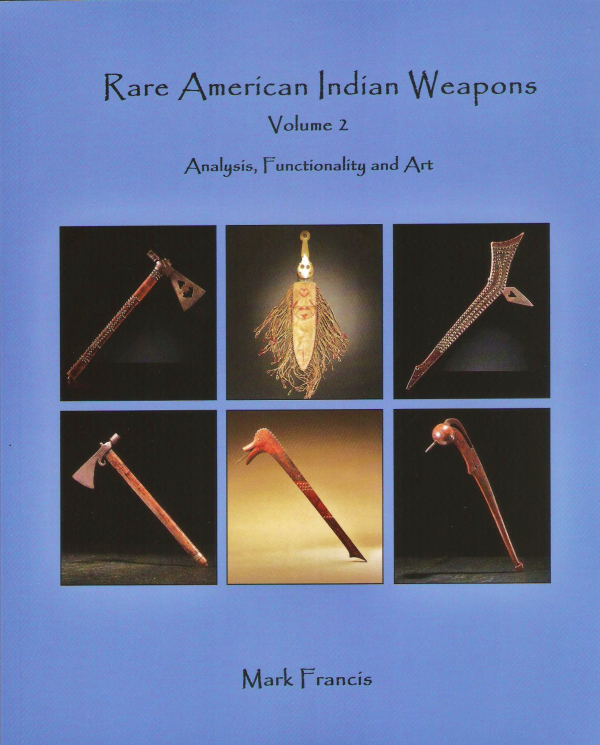 January 10, 2020 Update: Mark has been a busy little bee!
Hello everyone, happy 2020, we hope that the new year will be a happy, healthy and prosperous one for all of you! Mark has been a very busy little bee in the last 6 months or so and we have several updates for you:
The Cottonmouth "Voodoo Highway" 15th anniversary re-issue was released on December 1rst, 2019 after some delays with art work and production. Mark decided to remove a few songs from the original album, re-sequence the song order, and added a few cool bonus tracks, along with completely new art work. Copies will be available for purchase shortly here on the website, as well as all major music streaming and download services very soon. Here's a peak:
Legendary Classic Rock Artist Eddie Money passes:
We are sad to report that Mark's old buddy Eddie Money passed away this past fall from throat cancer. Mark shared the stage with Eddie several times over the years at various concert festivals and the two struck up a friendship. Mark had always had hoped to collaborate with Eddie sometime in the future; unforunately that won't happen now and we wish our sincerest condolences to Eddie's wife Laurie and family.
Movies, movies, movies....

Mark has been very busy in the last six months, completing several very cool film and television projects and he has many more coming up in the early part of 2020. Most are in post-production. We'll keep you posted on details and release dates.
In October of 2019 Mark went to Oklahoma to read for a major role in a new film directed by Martin Scorsese featuring Robert DeNiro and Leonardo DiCapro called "Killers of the Flower Moon". The filmed audition went very well and we're keeping our fingers crossed!
Mark was cast and filmed two separate scenes in the new Russo Brothers feature film "Cherry" featuring Tom Holland ("Spiderman: Homecoming", "Spiderman: Far from Home", "The Lost City of Z", "Captain America"; "Bill Skarsgard ("Deadpool 2", "It","It Chapter 2"; and the late "Sopranos" actor James Gandolfini's son Michael Gandolfini ("Flower", "The Duece", "Ocean's 8") produced & directed by two of the film industry's hottest directors Joe and Anthony Russo. The film is based on a book called "Cherry", written by a former soldier who becomes a heroin addict and begins robbing banks to support his habit. He is eventually caught and goes to prison. Mark was called back a few weeks later to film a third scene to play the head cell block prisoner and is in a scene where he interacts with star Tom Holland as he is escorted into the prison cell block. The prison scenes were filmed in Southern Ohio at Marion Correctional Facility. The movie is set to hit theaters in mid 2020. Here's a shot of Mark on set in his prison garb at Marion Correctional:
After freezing cold snow and ice in Ohio, Mark trekked back home to sunny Florida and went over to Miami to play the role of mean landlord Mr. Spencer in the new film short "Attraction Man". Written and produced by Eddie Eniel and Anthony Gaitta, the film was executive produced by L.J. Ugarte and Fire Creek Entertainment. Mark and director Eddie Eniel are collaborating on a song to be used in the movie. Here's a photo of Mark with director Eddie Eniel and co-star Gabriell Salgado on set:
On a short break from television and movie projects, Mark took time out to go and see his old friends Firefall perform in Bonita Springs, Florida this past December. Here's photo of Mark and his old buddy David Muse, one of Firefall's founding members. Mark first met David after he left Firefall and played with the Marshall Tucker Band. After 10 years with the Marshall Tucker Band, Muse went back to Firefall. Mark and David have talked about recording together sometime in the future.
One of Mark's most exciting highlights in the last several months came on the set of the new Warner Brothers Studios feature film "The Fred Hampton Story" where Mark was cast to play an FBI agent in a scene with Hollywood legend Martin Sheen. The film is being directed by award winning director/producer Shaka King and chronicles the death of Black Panther Party leader Fred Hampton in 1969 in Chicago. Mark's hair was put up under a very realistic short haired wig to play the role. It was darkened and tweaked to look authentic 1969 law enforcement. Hair and makeup were done by Wendy Johnson, who worked on Saturday Night Live in New York for 12 years. Here's a few shots of Mark's transformation:
Mark has many more exciting projects in the first part of the year, check for back for updates!
May 17, 2019 Update: Cottonmouth "Voodoo Highway" CD Re-issue Finished
Mark completed work at A to Z Studios in Cleveland, Ohio last week for the 15th anniversary re-issue of the 2004 Cottonmouth CD "Voodoo Highway". Mark worked with engineer Matthew Gross and re-mastered the record, re-sequenced the songs, and added some bonus tracks along with completely new cover art. A tentative release for the re-issue from Renegade Worldwide Entertainment is scheduled for July 1rst 2019. Songs will be available for purchase and download via all of the online music retailers.
April 28, 2019 Update: Another Good Man Gone

It is with deep sadness and shock that we announce the sudden passing of Mark's dear friend and brother-in-arms Phil McCormack, lead vocalist of Southern rock band Molly Hatchet. Mark had known Phil for over 20 years and shared many stages together along with many laughs, triumphs and tribulations in the crazy world of rock-n-roll. Mark had just gotten several phone calls from Phil a few weeks ago after his recent departure from Molly Hatchet, asking Mark to help him put a new band together. Mark had this to say: "Phil McCormack was a class act, he was a wonderful guy with a heart of gold. He had a great big stage persona, but had an even bigger heart. He was a great singer and made friends with everybody he met, everywhere he went. I think he always thought he was living in Danny Joe Brown's shoes, but I would always tell him "Phil, you don't sound like Danny, you sound like Phil. You can sing the songs accurately, but you have your own voice". McCormack had been living in Jacksonville, Florida with his brother and Mark says when he spoke to Phil in early April, he was sad and somewhat distraught about his split with Molly Hatchet after 25 years. Mark says: "I told him that maybe it would just be a short break for a while, maybe things would work out and he would go back later on at some time. He wanted me to come up to Jacksonville that week and help him plan the formation of a new band. I just had two many prior commitments and two movie premiers approaching and told him I would try to come in a few weeks and we could hang out and talk and maybe I could give him some ideas about what he could do. But I told him point blank "Phil, you have many fans and friends all over the place. And we love you for who you are; your character, your values, your loyal friendship, the person that you are. Being the singer in Molly Hatchet does not define who you are. We love you for you. And if you have to start over, all of your fans and your true friends will be there to support you". I am so deeply saddened and shocked by his passing. He will truly be missed by all of his frends and fans all over the world as well as his fellow colleagues and peers in the Southern rock community. The music world just got a lot smaller". Rest in peace brother and cross that Rainbow Bridge across the Devil's Canyon on your Journey.
March 18, 2019 Update:
Filming of the independent film "The Florida Shuffle" has wrapped up and will be edited and readied for late spring release. Current buzz is that the film may be entered into this year's Miami Film Festival. Here's a few photos of Mark on set:
Mark Francis on the set of "The Florida Shuffle" with co-stars Claudine Lee and Erika Gonzalez
Mark Francis and director Jay Bergel on the set of "The Florida Shuffle" moments after Mark's character is doused in the face with a urine sample cup by one of the patients trying to escape the facility. What a trooper! We're told it was actually lemonade.
February 2019 Update:
Mark has been cast in a new film short called "The Florida Shuffle" being produced by MDC-North Filmworks and directed by Jay Bergel. Mark's character Brian Ortega is the head counselor at a West Palm Beach drug rehab center who has dark and sinister motives of his own. Filming begins next week, we'll keep you posted on more details!
October 1, 2018 Update:
Mark has just been cast in the independent motion picture film "Church Pew Secrets" set to start filming in October of 2018! His character Adam Parker is an Iraq war veteran working D.E.A. Special Ops who gets killed in a drug raid gone wrong. The "short" film co-stars Micaiah Wells and is being produced by the Palm Beach Atlantic Film Institute and writer/director Joshua Myers. We'll keep you posted on filming and the spring release!
Mark has also got some exciting new things going on for the last part of 2018 including some new television and music projects as well. Additionally, he has begun work on two new books that he hopes to have finished by the end of 2019. Check back for more details!
October 29, 2018 Update: Filming of "Church Pew Secrets" has wrapped up and will be edited this winter and readied for a spring debut. Here's a few photos of Mark on set:

Mark and co-star Micaiah Wells outside the drug house raid.
Mark on set in Special Ops combat gear.
Mark in the make up chair with his facial bullet wound applied for the drug raid scene.
November 2018 Update:
Ex Molly Hatchet vocalist Jimmy Farrar dead: It's with a sad heart we report that former Molly Hatchet vocalist Jimmy Farrar has recently passed away from a heart attack. Jimmy was a dear friend and colleague of Mark's and Mark enjoyed jamming with Jimmy onstage several times over the years. Jimmy replaced original Molly Hatchet singer Danny Joe Brown in the early 1980's for a few years until Danny returned. Jimmy continued on singing for other bands including the "Southern Rock Allstars" that featured former members of the Outlaws, Blackfoot, Molly Hatchet, the Rossington Band and Lynyrd Skynyrd. He later formed a Molly Hatchet tribute band called "Gator Country" that inclued former Hachet members Bruce Crump, Riff West and Duane Roland. Jimmy was a great singer, a great guy who loved music and will certainly be missed by many friends & fans! R.I.P.